I feel like I need to apologize for not posting anything for over a week but I dont have any followers (if any at all) so no lol. /criescozofghostblog. but anyway I have nice pictures and things to say so w/e. let me start out with last week. I had jury duty to go to and yes it was horrible, and yes I made it to the second stage that everyone dreads but thank god I wasn't chosen to be a juror for that case. I lasted a total of three days in the juror choosing process which I think is a horrible process to go through btw.
<-- just stuff I took with me for those days at the courthouse.

vitamin water, EOS lipbalm, hichew candy, and fiber one bars.
view from the 11th floor of the LA courthouse.
after my horrid week I was able to go to the cherry blossom festival. I missed the dolldelight fashion show by a few minutes :/ but I was still able to see my two friends, one whom participated in the fashion show and I got to take pictures of :'D still waiting for those pictures to be developed so that I can post them! look out for that!
here are some pictures from that event i took with my phone hehe.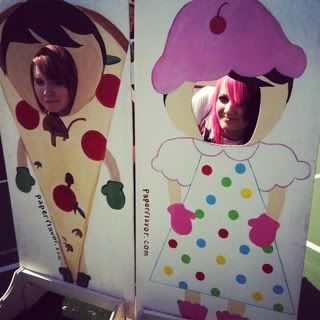 got to touch some koi gish at the festival and took a silly photo of min and shannon haha.
will stop here im tired :0.